Important milestones in the history of Kazakhstan

Kazakhstan has a long and fascinating history, going back thousands of years. Some remnants are still visible today such as Great Silk Road monuments, petroglyphs and sometimes even mysterious archaeological sites...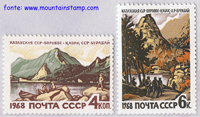 Burabay (Borovoe) National Nature Park
Kazakhstan nature reserves. Kazakhstan recreation zones
In the north of Akmola region the SNNP "Burabay" is located. This resort pearl of Kazakhstan is a fantastic mountain land harboring mysterious wonders...
Burabay (Borovoe) National Nature Park